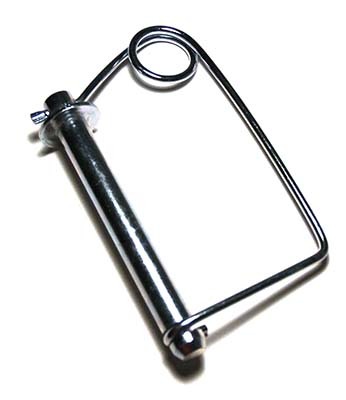 Safety Spring Pin
The Safety Spring Pin is notched for secure locking of the spring wire. Spring is securely clinched where is passes through the upper end of the pin and will not pull out. All pins have a heavy duty washer welded to them.
Material - C1144 or Stainless Steel (304)
Finish - Zinc Plated (Clear) or Stainless Steel
Made in the USA.
Note:
Customize Pins.
If you do not see exactly what you need or want (example-diameter, usable length, handle style, or plating etc) please go to our build a pin page and submit your requirements.
---



PART NO.

DESCRIPTION

MATERIAL

PIN DIA

USABLE LENGTH

WIRE DIA

LOOP CLEARANCE

PCS/BAG

3

Quantity

SP124

1/2

Steel (C1144)

1/2

3 1/2

0.177

2-3/4

6

4

SP586

5/8

Steel (C1144)

5/8

4 1/2

0.177

2-3/4

6

5

SP346

3/4

Steel (C1144)

3/4

4 1/2

0.177

2-3/4

6

7

SP348

3/4

Steel (C1144)

3/4

6

0.177

3

6

9

SP788

7/8

Steel (C1144)

7/8

6

0.177

3

6

10

SP18

1

Steel (C1144)

1

6

0.177

3

6

WGT/BAG




PART NO.

DESCRIPTION - Stainless

MATERIAL

PIN DIA

USABLE LENGTH

WIRE DIA

LOOP CLEARANCE

PCS/BAG

3

Quantity

SSP124

1/2

Stainless Steel (304)

1/2

3 1/2

0.177

2-3/4

6

4

SSP586

5/8

Stainless Steel (304)

5/8

4 1/2

0.177

2-3/4

6

5

SSP346

3/4

Stainless Steel (304)

3/4

4 1/2

0.177

2-3/4

6

7

SSP348

3/4

Stainless Steel (304)

3/4

6

0.177

3

6

9

SSP788

7/8

Stainless Steel (304)

7/8

6

0.177

3

6

10

SSP18

1

Stainless Steel (304)

1

6

0.177

3

6

HEAD HEIGHT