About Us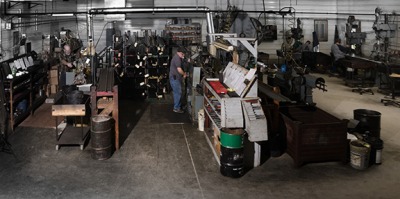 You could say Wilson Manufacturing Co. is all about making good connections. It started in 1952 when Gail Wilson came up with a hitch pin design because what he needed wasn't available. That spirit of ingenuity fuels Wilson's workshop today, more than 60 years later, where customers still rely on products made specifically for their needs. Wilson Manufacturing Co. of Pipestone, Minnesota, ships to 39 countries, making good connections through their American-made fasteners.
About us
We've come a long way from our two-person operation of 1952. Our American-made non-threaded fasteners are created by our 18-person, experienced, full-time staff. The operational efficiencies built into our spacious, orderly facilities and our commitment to quality manufacturing are based on Gail's original principles. The combination is the Wilson Manufacturing difference, enabling us to get you the highest quality fasteners, precision-made to your exact requirements, economically, safely and with impressive lead times.
Have a unique request? We provide made-to-order designs even on smaller orders. With on-time delivery averaging above 95%, you won't be held up waiting for hardware, keepers, pins, cable lanyards, bushings, angle pins – or almost any custom metal work
To connect with us, email sales@wilsonmfgco.com or call 507-825-2069.
History of innovation
Gail Wilson worked at an implement business in Pipestone. His customers needed hitch pins to get their new equipment home. Dissatisfied with those that were available to them, he designed one of his own. The pin was such a success, it led to other innovations improving on other fastener designs. Gail listened to customers to get a complete picture of what they needed.
Many of the machines and jigs the Wilson team uses were designed in-house by our own workshop personnel. Several larger machines are models Wilson Manufacturing worked with outside engineers to make. The longevity of the equipment is itself a further testament to the care taken at Wilson Manufacturing Co. in every facet of our operations.
Rooted in family
Wilson Mfg. Co. is proud to be family owned and operated, but the phrase falls short of expressing just how family-oriented our business is. All of us who work at Wilson Manufacturing have family obligations, from the owner to the most recent hire. Our employees know that we support what they need to do outside of work. It's the only way we will do business – family comes first.
Gail sold his company to a well-trusted employee and protégé, Howard Douty. While working for Gail, Howard had learned the value of a cleanly kept, well-organized shop for operational efficiency. It wasn't just to keep costs down and production and quality high. It had been a matter of necessary. The founder – whose insightful metal-working and manufacturing vision produce such precisely made, high-quality fasteners – was legally blind.
Howard and his wife Perdita built upon Wilson's legacy of quality, first moving the business to their two-stall garage in the middle of town. By 1975, however, the growing company needed much more room. The Doutys moved their home and business to our current location.
Howard passed away in 1997. Perdita passed away in 2015.
During their 53 years of marriage, Howard and Perdita raised four daughters and one son, Robert, who bought Wilson Mfg. Co. from his father in 1990 after serving as Plant Manager for several years.
Joseph Douty is now the third generation Douty owner of the company. He is the son of Robert and his wife Mieko. Joseph moved back to Pipestone in 1997 after attending college and worked his way up from skilled welder and machinist.
Joseph carries forward a family legacy of service to the community, state and nation. He and his wife Alison have three daughters and one son.
Joseph Douty
Minnesota Army National Guard since 1993
3 overseas deployments (36 months)
Active member of the Pipestone Volunteer Fire Department
City of Pipestone Variance and Zoning Committee (5 years)
American Legion and a VFW member
Volunteer assistant high school boys basketball coach (8 years)
Robert Douty
30 years of military service –8 ½ years active duty, U.S. Army; 21 ½ years Minnesota Army National Guard. (Retired from service in 2001)
22 years of service on the Pipestone Volunteer Fire Department, including as Captain of the Engine Company, as 1st Assistant Chief (1 year) and as Fire Chief (3 years)
Serves the First Lutheran Church in various roles, including as its president
Member of Southwest MN Honor Flight, helping to raise money to send WWII vets to the memorial in Washington DC
Howard Douty
Helped establish the Pipestone and Rock County charter of the Gideon International Bible Association
Helped organize the first chapter of the Pipestone County Food Shelf
Served in a variety of roles at the First Lutheran Church in Pipestone
Member of the noon Kiwanis Club