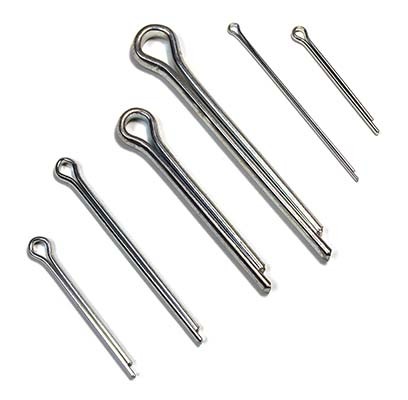 Cotter Pin
Cotter pins are split pins that are opened outward after passing through a hole. The most common type is the extended cotter pin, which has one end that is slightly longer than the other. Often, cotter pins are used in conjunction with clevis pins. Cotter pins are also referred to as split pins.
Finish - Zinc Plated (Clear) Large sizes (Plain)
Made in the USA
Note:Bulk Packs (Small & Large)
are larger quantities packaged in clear plastic bags for easy use.
Assortment Kits
are clear re-usable plastic boxes with dividers containing several sizes commonly used on the farm, in the shop, or around the house (3 kits/ctn).
Assortment Blisters and Blister Packs
(or more commonly known as Clamshells) are pre-punched clear re-usable packages containing small quantities. Used for refills for pegboard displays (10 blisters/ctn).
---



PART NO.

DESCRIPTION - Bulk

PIN DIA

HOLE SIZE

SHANK MIN/MAX

WIDTH MIN/MAX

PCS/BAG

WGT/BAG

Quantity

CP0100

1/16 x 1/2

1/16

5/64

.060/.056

.060/.044

200

0.12

CP0200

1/16 x 3/4

1/16

5/64

.060/.056

.060/.044

200

0.15

CP0300

1/16 x 1

1/16

5/64

.060/.056

.060/.044

200

0.19

CP0500

1/16 x 1-1/2

1/16

5/64

.060/.056

.060/.044

200

0.27

CP0700

1/16 x 2

1/16

5/64

.060/.056

.060/.044

200

0.35

CP0900

1/16 x 2-1/2

1/16

5/64

.060/.056

.060/.044

200

0.52

CP1000

3/32 x 3/4

3/32

7/64

.090/.086

.090/.069

200

0.34

CP1200

3/32 x 1

3/32

7/64

.090/.086

.090/.069

200

0.44

CP1400

3/32 x 1-1/2

3/32

7/64

.090/.086

.090/.069

200

0.62

CP1500

3/32 x 1-3/4

3/32

7/64

.090/.086

.090/.069

200

0.7

CP1600

3/32 x 2

3/32

7/64

.090/.086

.090/.069

200

0.8

CP1800

3/32 x 2-1/2

3/32

7/64

.090/.086

.090/.069

200

0.99

CP1900

3/32 x 3

3/32

7/64

.090/.086

.090/.069

200

1.2

CP2000

1/8 x 3/4

1/8

9/64

.120/.116

.120/.093

200

0.66

CP2100

1/8 x 1

1/8

9/64

.120/.116

.120/.093

200

0.86

CP2200

1/8 x 1-1/2

1/8

9/64

.120/.116

.120/.093

200

1.12

CP2300

1/8 x 1-3/4

1/8

9/64

.120/.116

.120/.093

200

1.32

CP2400

1/8 x 2

1/8

9/64

.120/.116

.120/.093

200

1.48

CP2600

1/8 x 2-1/2

1/8

9/64

.120/.116

.120/.093

200

1.78

CP3000

5/32 x 1

5/32

11/64

.150/.146

.150/.116

200

1.38

CP3100

5/32 x 1-1/2

5/32

11/64

.150/.146

.150/.116

200

1.9

CP3200

5/32 x 2

5/32

11/64

.150/.146

.150/.116

200

2.3

CP4000

3/16 x 1

3/16

13/64

.176/.172

.176/.137

200

2.08

CP4200

3/16 x 1-1/2

3/16

13/64

.176/.172

.176/.137

100

2.78

CP4400

3/16 x 2

3/16

13/64

.176/.172

.176/.137

100

3.42

CP4600

3/16 x 2-1/2

3/16

13/64

.176/.172

.176/.137

100

4.06

CP4700

3/16 x 3

3/16

13/64

.176/.172

.176/.137

100

4.74

CP5000

1/4 x 1

1/4

17/64

.225/.220

.225/.176

100

3.78

CP5100

1/4 x 1-1/2

1/4

17/64

.225/.220

.225/.176

100

4.84

CP5200

1/4 x 2

1/4

17/64

.225/.220

.225/.176

100

5.94

CP5400

1/4 x 2-1/2

1/4

17/64

.225/.220

.225/.176

100

6.9

CP5500

1/4 x 3

1/4

17/64

.225/.220

.225/.176

100

8.06

CP5600

1/4 x 3-1/2

1/4

17/64

.225/.220

.225/.176

100

9.38

CP6000

5/16 x 1

5/16

5/16

.280/.275

.280/.220

50

6.44

CP6100

5/16 x 1-1/2

5/16

5/16

.280/.275

.280/.220

50

8.02

CP6200

5/16 x 2

5/16

5/16

.280/.275

.280/.220

50

10.36

CP6400

5/16 x 2-1/2

5/16

5/16

.280/.275

.280/.220

50

11.88

CP6500

5/16 x 3

5/16

5/16

.280/.275

.280/.220

50

13.54

CP7000

3/8 x 1-1/2

3/8

3/8

.335/.329

.335/.263

50

12.64

CP7200

3/8 x 2

3/8

3/8

.335/.329

.335/.263

50

14.72

CP7400

3/8 x 2-1/2

3/8

3/8

.335/.329

.335/.263

50

17.3

CP7500

3/8 x 3

3/8

3/8

.335/.329

.335/.263

50

20.82

CP7600

3/8 x 3-1/2

3/8

3/8

.335/.329

.335/.263

50

22.46

CP7700

3/8 x 4

3/8

3/8

.335/.329

.335/.263

50

24.86




PART NO.

DESCRIPTION - Large Sizes

PIN DIA

HOLE SIZE

SHANK MIN/MAX

WIDTH MIN/MAX

PCS/BAG

WGT/BAG

Quantity

CPL1000

3/8 x 7

3/8

3/8

.335/.329

.335/.263

1

0.2

CPL1100

3/8 x 8

3/8

3/8

.335/.329

.335/.263

1

0.23

CPL2000

1/2 x 7

1/2

1/2

.473/.467

.473/.373

1

0.4

CPL2100

1/2 x 8

1/2

1/2

.473/.467

.473/.373

1

0.45

CPL3000

5/8 x 3

5/8

11/16

.598/.590

.598/.472

1

0.4

CPL3100

5/8 x 3-1/2

5/8

11/16

.598/.590

.598/.472

1

0.44

CPL3200

5/8 x 4

5/8

11/16

.598/.590

.598/.472

1

0.48

CPL3300

5/8 x 5

5/8

11/16

.598/.590

.598/.472

1

0.57

CPL3400

5/8 x 6

5/8

11/16

.598/.590

.598/.472

1

0.65

CPL3500

5/8 x 7

5/8

11/16

.598/.590

.598/.472

1

0.72

CPL3600

5/8 x 8

5/8

13/16

.598/.590

.598/.472

1

0.85

CPL4000

3/4 x 3

3/4

13/16

.723/.715

.723/.572

1

0.54

CPL4100

3/4 x 3-1/2

3/4

13/16

.723/.715

.723/.572

1

0.59

CPL4200

3/4 x 4

3/4

13/16

.723/.715

.723/.572

1

0.65

CPL4300

3/4 x 5

3/4

13/16

.723/.715

.723/.572

1

0.76

CPL4400

3/4 x 6

3/4

13/16

.723/.715

.723/.572

1

0.85

CPL4500

3/4 x 7

3/4

13/16

.723/.715

.723/.572

1

0.92

CPL4600

3/8 x 8

3/4

13/16

.723/.715

.723/.572

1

1.03




PART NO.

DESCRIPTION - Blister

PIN DIA

HOLE SIZE

SHANK MIN/MAX

WIDTH MIN/MAX

BLISTERS/CTN

PCS/BLISTER

Quantity

CP10

3/32 x 3/4

3/32

7/64

.090/.086

.090/.069

10

36

CP12

3/32 x 1

3/32

7/64

.090/.086

.090/.069

10

32

CP14

3/32 x 1-1/2

3/32

7/64

.090/.086

.090/.069

10

22

CP21

1/8 x 1

1/8

9/64

.120/.116

.120/.093

10

21

CP22

1/8 x 1-1/2

1/8

9/64

.120/.116

.120/.093

10

16

CP31

5/32 x 1-1/2

5/32

11/64

.150/.146

.150/.116

10

10

CP40

3/16 x 1

3/16

13/64

.176/.172

.176/.137

10

10

CP42

3/16 x 1-1/2

3/16

13/64

.176/.172

.176/.137

10

7

CP44

3/16 x 2

3/16

13/64

.176/.172

.176/.137

10

5

CP51

1/4 x 1-1/2

1/4

17/64

.225/.220

.225/.176

10

4

CP52

1/4 x 2

1/4

17/64

.225/.220

.225/.176

10

3

CP62

5/16 x 2

5/16

17/64

.280/.275

.280/.220

10

2




PART NO.

DESCRIPTION - Assortment blister

SIZES/BLISTER

NO OF PIECES

BLISTERS/CTN

WGT/CTN

Quantity

CP50A

(1/16, 3/32, 1/8, 5/32)

9

50

10

2

CP100A

(3/32, 1/8, 5/32, 3/16, 1/4, 5/16)

12

100

10

8.5




PART NO.

DESCRIPTION - Assortment Kit

SIZES/KIT

PIECES/KIT

KITS/CTN

WGT/CTN

Quantity

CP260

(3/32, 1/8, 5/32 ,3/16, 1/4, 5/16)

12

260

3

6

CP300

(1/16, 3/32, 1/8)

17

300

3

2.5