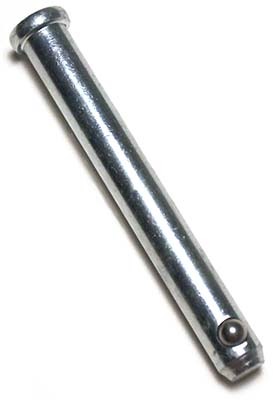 Cotterless Clevis Pin
Cotterless Clevis Pin features a ball detent that depresses and springs up to hold the Clevis Pin into place. Used for assembly speed or where cotter pins are difficult to use. This fastener lowers labor costs. They allow for a easy quick release fastening that is used for flush-mount application. Self-locking and reusable proves itself in countless applications. Made of zinc plated steel, with a stainless steel ball which resist corrosion and provides for long life.
Material - Carbon Steel
Finish - Zinc Plated (Clear)
Made in the USA

Note:
Are also available in larger diameters and other materials.
---



PART NO.

DESCRIPTION

DIA

MATERIAL

HOLE DIA

USABLE LENGTH

PCS/BAG

WGT/C

Quantity

CMP1000

3/16 x 1

3/16

Carbon Steel

3/32

13/16

10

0.82

CMP1200

3/16 x 2

3/16

Carbon Steel

3/32

1-13/16

10

1.22

CMP1400

3/16 x 3

3/16

Carbon Steel

3/32

2-13/16

10

1.59

CMP2000

1/4 x 1

1/4

Carbon Steel

3/32

3/4

10

1.2

CMP2200

1/4 x 2

1/4

Carbon Steel

3/32

1-3/4

10

1.87

CMP2400

1/4 x 3

1/4

Carbon Steel

3/32

2-3/4

10

2.56

CMP3000

5/16 x 1

5/16

Carbon Steel

5/32

5/8

10

2.43

CMP4000

3/8 x 1

3/8

Carbon Steel

5/32

5/8

10

3.51

CMP4200

3/8 x 2

3/8

Carbon Steel

5/32

1-5/8

10

5.06

CMP4400

3/8 x 3

3/8

Carbon Steel

5/32

2-5/8

10

6.5

CMP4600

3/8 x 4

3/8

Carbon Steel

5/32

3-5/8

10

8.08

CMP5200

1/2 x 2

1/2

Carbon Steel

5/32

1-1/2

10

9.19

CMP5400

1/2 x 3

1/2

Carbon Steel

5/32

2-1/2

10

11.3