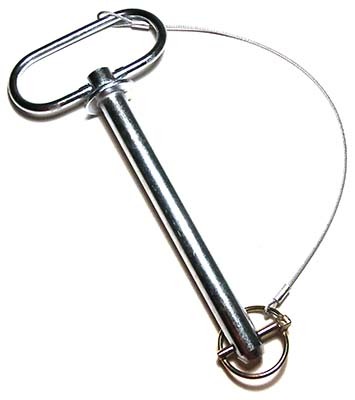 Large Handle Hitch Pin w/lany & keeper
The Large Handle Hitch Pin has a large handle that swivels, with a heavy duty washer welded onto the pin. I hole is drilled in the lower end for a keeper to be installed. A Lynch or Wire Lock Pin is attached with a Nylon Coated Cable.
Material - C1144
Finish - Zinc Plated (Clear)
Made in the USA


Note:Display Assortment
made up of 45 pcs of the most popular.
Customize Pins
. If you do not see exactly what you need or want (example diameter, usable length, handle style, or plating etc.) pleased go to our build a pin page and submit your requirement's.)
---



PART NO.

DESCRIPTION

DIA

USABLE LENGTH

MATERIAL

KEEPER

PCS/BAG

WGT/BAG

Quantity

LHY124

(1/2 x 3-1/2) W/Lanyard

1/2

3 1/2

Steel (C1144)

Lynch Pin

12

5

LHY586

(5/8 x 4-1/2) W/Lanyard

5/8

4 1/2

Steel (C1144)

Lynch Pin

12

8

LHY588

(5/8 x 6) W/Lanyard

5/8

6

Steel (C1144)

Lynch Pin

12

9

LHY346

(3/4 x 4-1/2) W/Lanyard

3/4

4 1/2

Steel (C1144)

Lynch Pin

12

10

LHY348

(3/4 x 6) W/Lanyard

3/4

6

Steel (C1144)

Lynch Pin

12

13

LHY786

(7/8 x 4-1/2) W/Lanyard

7/8

4 1/2

Steel (C1144)

Lynch Pin

12

14

LHY788

(7/8 x 6) W/Lanyard

7/8

6

Steel (C1144)

Lynch Pin

12

17

LHY18

(1 x 6) W/Lanyard

1

6

Steel (C1144)

Lynch Pin

12

23

LHY1189

(1-1/8 x 7) W/Lanyard

1 1/8

7

Steel (C1144)

Lynch Pin

6

17

LHY1149

(1-1/4 x 7) W/Lanyard

1 1/4

7

Steel (C1144)

Lynch Pin

6

20

LHY11210

(1-1/2 x 8) W/Lanyard

1 1/2

8

Steel (C1144)

Lynch Pin

6

32

LHY210

(2 x 8) W/Lanyard

2

8

Steel (C1144)

Wire Lock Pin

3

30