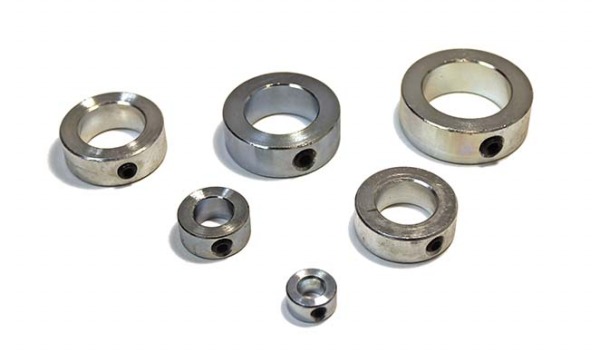 Set Collar
The Shaft Set Collar is a simple, yet important machine component found in many power transmission applications, most notably motors and gearboxes. The collars are used as mechanical stops, locating components, and bearing faces. The simple design lends itself to easy installation. Uses a hardened set screw to penetrate the shaft, to achieve grip.
Finish -Zinc Plated
Made in the USA
Note:Bulk Packs
are larger quantities packaged in clear plastic bags for easy use.
Display Assortment
includes a wooden display board with hooks for easy identification and selection of 9 individual sizes ranging from 3/4 to 2".
---



PART NO.

DESCRIPTION - Bulk

ID

OD

WIDTH

PCS/BAG

WGT/C

Quantity

SC1000

3/8

3/8

3/4

3/8

8

3.13

SC1200

1/2

1/2

1

7/16

8

6.88

SC1400

5/8

5/8

1 1/8

1/2

8

9.38

SC1600

3/4

3/4

1 1/4

9/16

8

11.88

SC1800

7/8

7/8

1 1/2

9/16

6

15

SC2000

15/16

15/16

1 5/8

9/16

6

20.63

SC2200

1

1

1 5/8

5/8

6

23.13

SC2400

1-1/8

1 1/8

1 3/4

5/8

6

24.38

SC2600

1-3/16

1 3/16

2

11/16

6

37.5

SC2800

1-1/4

1 1/4

2

11/16

6

36.25

SC3000

1-3/8

1 3/8

2 1/8

3/4

4

40.62

SC3200

1-7/16

1 7/16

2 1/4

3/4

4

47.5

SC3400

1-1/2

1 1/2

2 1/4

3/4

4

46.25