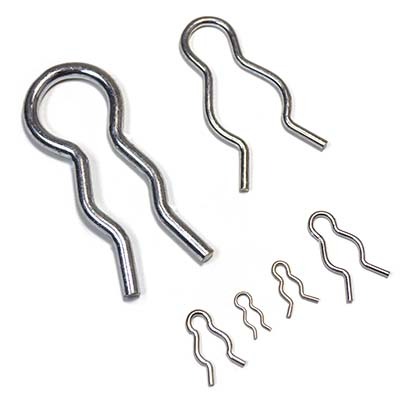 External Hitch Pin Clip
A general purpose snap on clip made of MB Spring Wire used for countless commercial and industrial applications.
Finish - Zinc Plated (Clear)
Made in USA.
Note:
Bulk Packs
are larger quantities packaged in clear plastic bags for easy use.
Blister Packs
(or more commonly known as Clamshells) are pre-punched clear re-usable packages containing small quantities. Used for refills for pegboard displays (10 blisters/ctn).
---



PART NO.

DESCRIPTION - Bulk

SIZE

WIRE DIA

OVERALL LENGTH

PCS/BAG

WGT/BAG

Quantity

EHP0200

5/32

5X

0.035

5/32

100

0.25

EHP0400

3/16

16X

0.047

3/16

100

0.63

EHP0600

3/8

2X

0.062

3/8

100

2

EHP0800

5/16

12X

0.062

5/16

100

1.39

EHP1000

25/32

7X

0.105

25/32

100

10.75

EHP2000

11/16

10X

0.177

11/16

100

42




DISCRIPTION-Blister

SIZE

WIRE DIA

OVERALL LENGTH

PCS/BLISTER

WGT/BLISTER

Quantity

EHP10

25/32

7X

0.105

25/32

4

0.52

EHP20

11/16

10X

0.177

11/16

2

1.01