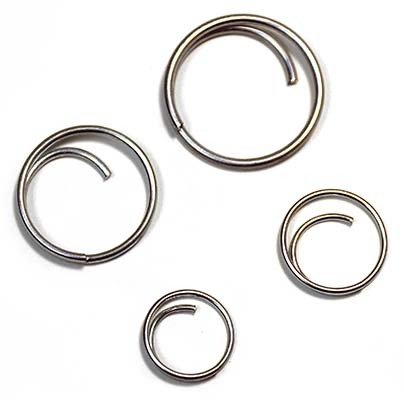 Circle Cotter
Circle cotters are manufactured from wire that is wound or turned-on from the middle out. The open end of the cotter is threaded into a hole in a pin, and then turned until it snaps into place.  Circle cotters are very secure. They are used where sharp ends are not permitted, such as fabric applications.  Thread the wire end (inside the ring) into the hole in the shaft and turn until ring snaps into place.  To remove, turn again in the same direction.
Material - MB spring wire
Finish - Zinc Plated (Clear)
Made in the USA.
---



PART NO.

DESCRIPTION - Zinc plated

OUTSIDE DIA

WIRE DIA

USED ON

PCS/BAG

WGT/M

Quantity

CC1000

Circle Cotter

5/8

0.048

3/16-1-/4

100

1.4

CC1200

Circle Cotter

3/4

0.048

1/4-5/16

100

1.6

CC1400

Circle Cotter

1

0.062

3/8-7/16

100

4

CC1600

Circle Cotter

1 1/8

0.072

7/16-1/2

100

5.8




PART NO.

DESCRIPTION-Stainless (302)

OUTSIDE DIA

WIRE DIA

USED ON

PCS/BAG

WGT/M

Quantity

SCC1000

Circle Cotter

5/8

0.048

3/16-1/4

100

1.4

SCC1200

Circle Cotter

3/4

0.048

1-4-5/16

100

1.6

SCC1400

Circle Cotter

1

0.062

3/8-7/16

100

4

SCC1600

Circle Cotter

1 1/8

0.072

7/16-1/2

100

5.8