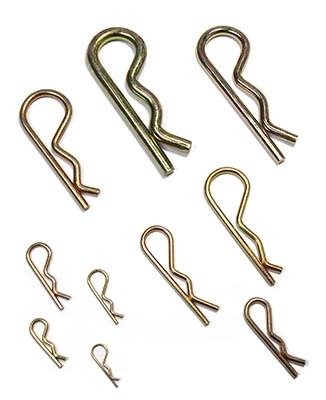 Hitch Pin Clip
Hitch Pin Clips are simple, extremely versatile and the design wire forms are used as a locking devise. They are reusable and cost effective. Commonly used on clevis pins and shafts. Could be know as R-Clips, Hair Pin Cotter, Bridge Pins or Spring Cotter Pin. Another general purpose clip used extensively in the agricultural market.

Finish Zinc Plated (Clear) or Stainless Steel
Made in the USA

Note:
Bulk Packs
are larger quantities packaged in clear plastic bags for easy use.
Assortment Kits
are clear re-usable plastic boxes with dividers containing several sizes commonly used on the farm, in the shop or around the house (3 kits/ctn).
Assortment Blisters and Blister Packs
(or more commonly known as Clamshells) are pre-punched clear re-usable packages containing small quantities. Used for refills for countertop or pegboard displays (10 blisters/ctn).
---



PART NO.

DESCRIPTION - Bulk

SIZE

WIRE DIA

OVERALL LENGTH

HOLE SIZE

SHAFT DIA

PCS/BAG

WGT/M

Quantity

HP0400

3/64

3/64

0.04

1

3/64

3/16-1/4

100

0.88

HP0600

1/16

1/16

0.06

1-5/16

5/64

1/4-1/2

100

2.5

HP0800

5/64

5/64

0.08

1-3/16

3/32

1/4-3/8

100

3.75

HP1000

3/32A

3/32A

0.09

1-5/8

7/64

1/4-1/2

100

7

HP1100

3/32B

3/32B

0.09

2-5/16

7/64

1/4-5/8

100

10

HP2000

1/8A

1/8A

0.13

1-15/16

9/64

1/2-3/4

100

14.75

HP2100

1/8B

1/8B

0.13

2-9/16

9/64

7/16-3/4

100

19.5

HP3000

5/32

5/32

0.15

2-7/8

5/32

3/4-1-1/8

100

36

HP4000

3/16

3/16

0.18

3-1/4

3/16

5/8 - 1

100

51.5

HP5000

1/4

1/4

0.24

4

17/64

3/4 - 1

50

115

HP6000

5/16

5/16

0.31

4-1/16

21/64

7/8 - 1

25

175




PART NO.

DESCRIPTION - Bulk (Stainless)

SIZE

WIRE DIA

OVERALL LENGTH

HOLE SIZE

SHAFT DIA

PCS/BAG

WGT/M

Quantity

SHP0400

3/64

3/64

0.04

1

3/64

3/16-1/4

100

0.88

SHP0600

1/16

1/16

0.06

1-5/16

5/64

1/4-1/2

100

2.5

SHP0800

5/64

5/64

0.08

1-3/16

3/32

1/4-3/8

100

3.75

SHP1000

3/32A

3/32A

0.09

1-5/8

7/64

1/4-1/2

100

7

SHP1100

3/32B

3/32B

0.09

2-5/16

7/64

1/4-5/8

100

10

SHP2000

1/8A

1/8A

0.13

1-15/16

9/64

1/2-3/4

100

14.75

SHP2100

1/8B

1/8B

0.13

2-9/16

9/64

7/16-3/4

100

19.5

SHP3000

5/32

5/32

0.15

2-7/8

5/32

3/4-1-1/8

100

36

SHP4000

3/16

3/16

0.18

3-1/4

3/16

5/8 - 1

100

51.5

SHP5000

1/4

1/4

0.24

4

17/64

3/4 - 1

50

115




PART NO.

DESCRIPTION - Blister

PCS/BLISTER

WGT/BLISTER

Quantity

HP10

3/32

10

0.84

HP20

1/8

4

0.71

HP30

5/32

3

1.3

HP40

3/16

2

1.24

HP50

1/4

1

1.38

HP60

5/16

1

2.1




PART NO.

DESCRIPTION - Assortment Kit

SIZES/KIT

PCS/KIT

KITS/CTN

WGT/CTN

Quantity

HPC100

Hitch Pin Clip (3/64,5/64,3/32,1/8,5/32,3/16)

6

6

3

6




PART NO.

DESCRIPTION - Assortment Blisters

SIZES/BLISTER

PCS/BLISTER

BLISTERS/CTN

WGT/CTN

Quantity

HP15A

Hitch Pin Clip (3/32,1/8,5/32,3/16)

4

15

10

3.5